Winner of the Reader's Choice
"Best Pet Boarding " award
from 2011-2016
Daycare Pricing
Single Full Day – $33
Daycare Pass/ 5 full days –
$135

 (save $33)
Daycare pass/10 full days-$260 (save $70)
20 Day Pass –

$500

 (save $160)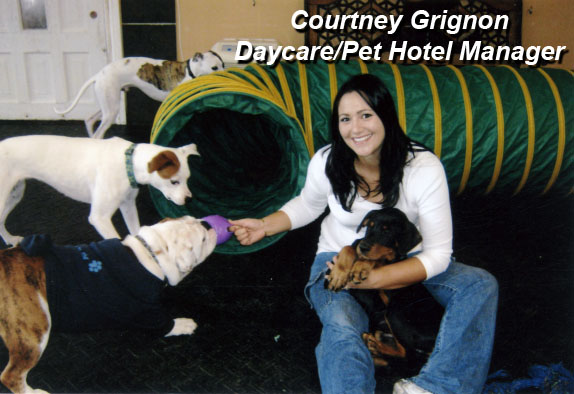 Your Dog's Day at Shannoncourt Daycare For Dogs consists of:



Free play with other dogs, grouped according to size & personality




Practicing good manners for treats & pats




Indoor & outdoor playtimes




Constant supervision from pet behaviour specialists




Lunch time nap to classical music



Friends of his/her own species




An awesome exercise & energy outlet




No loneliness during the day



A tired, happy, well exercised dog at the end of the day




Maintains a friendly well behaved pet




Convenient if at work for long hours




Provides peace of mind-no guilt when away from home
A Typical Day
The dogs at Shannoncourt daycare run, play, wrestle, chase, play hide-and-seek, snuggle up together, or simply hang out with their friends. The dogs in our care are on a healthy play/rest schedule. While resting the dogs are in an individual pet hotel bedroom complete with an elevated bed and and bowl of fresh water.
Our typical daycare "parent" is a hard working individual seeking to provide a healthy outlet for their dog's energy and natural behaviour. Rather than spending the day alone while you are at work your dog could be enjoying his/her day in the company of other dogs and the caring staff at Shannoncourt.
Daycare policies that pet parents need to be aware of:
-Dogs attending daycare need to be wearing a plain nylon collar. For safety reasons they are not allowed in daycare if they are wearing a chain collar or any type of collar that tightens.
-If a dog is not feeling well he/she is not permitted to come to daycare
-if a dog has fleas he/she may not enter our building until he/she has be treated with a veterinary prescribed flea medication
-We do not accept any personal items from home except your dog's food. No exceptions are made. We will provide safe, washable toys and comfortable bedding for your dog's stay.
-All dogs that attend daycare need up to date core vaccines and also the bordetella vaccine at least seven days and preferably ten days before their visit
(you have to ask for the bordetella vaccine, it doesn't come with the standard vaccines)
– We encourage owners to bring their young puppies to daycare because of the enormous socialization benefits. Dogs may participate in our daycare program as young as 11 weeks old, providing that they have received two sets of vaccines including the bordetella vaccine.